Hull Anodes

ZHC-10-1/2 Divers Dream Slotted Bolt on Boating Cathodic Hull Anodes Z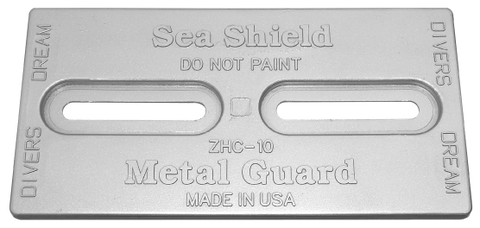 ZHC-10-1/2 Divers Dream Slotted Bolt on Boating Cathodic Hull Anodes Zinc 1/2 x 6 x 12
Description:
ZHC-10-1/2 Divers Dream Slotted Bolt on Boating Cathodic Hull Anodes Zinc 1/2 x 6 x 12
Slot Size  1/2″ X 2″ X 9″
Galvanized steel core for better bonding and longer life.
Replacement Only
Diecast to highest Mil-Spec standards
Protection in salt water
Easy installation
Made in USA
Our Divers Dream plates have a galvanized steel core for long life, better bonding, and superior grounding.
Our Hull Anodes are slotted for easy install on a variety of mounting configurations.
Hull Plate Anodes also provide excellent protection to the hulls of metal boats.
Designed by divers and made in America, these anodes conform to Mil-Spec MIL-A-18001, providing the worlds best protection.
| Part No | Thickness | Width | Length | Slot Size | Weight(lb) |
| --- | --- | --- | --- | --- | --- |
| ZHC-10-1/2 | 1/2″ | 6″ | 12″ | 1/2″X2″X9″ | 8.5 |
Sea Shield Marine Bolt On Anodes are available in Mil-Spec Zinc and Aluminum, are pressure die cast, and provide the highest performance available. Whether you're in the market for our industry best Divers Dream Plate or our revolutionary Tear Drop anodes with slotted design, you can be confident you're getting the best boat zincs on the market.
Collections
Product Types